Tom Pain
Trainee Royal Navy Mine Clearance diver
Age : 24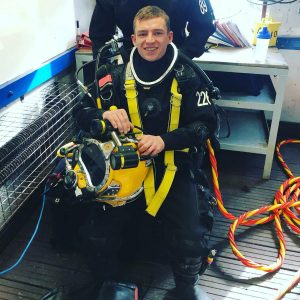 Joined the Royal Navy in May 2017 and after 10 weeks basic training at HMS Raleigh in Plymouth is now doing diver training at HMS Collingwood, Portsmouth
Initially, Tom got into sailing at age 7 when his parents were visiting relatives in Norfolk and he participated in a week long summer sailing camp. Sailing with friends on this fun camp convinced Tom he wanted to continue sailing upon his return to home in Penarth. He soon joined Cardiff Bay Yacht Club evening sailing sessions and started to learn to sail in an Optimist dinghy.
Tom continued to develop his skills in the Optimist where he made a lot of friends and started spending more and more time on the water in Cardiff Bay.
At the age of 12 he got into the Welsh National Optimist squad and a year later was also selected for the British squad. As a British squad member and as a reward for the success he was having he was invited to attend the Optimist European Championships in Lake Garda Switzerland and also the Swiss National championships.
Sailing took Tom to many exciting destinations. He competed in the Celtic games held in Carentec, France, events in Malta and the Optimist Easter regatta in Brassemer, Netherlands.
The Easter regatta was particularly memorable for Tom, as not only was it a week to make many new international friends but also 'there is a certain thrill to breaking ice from your boat in a blizzard, especially when you are doing it with your mates'.
After sailing the Optimist and at age 15 Tom moved onto two person sailing in the 420 class. He sailed with various different people and learnt the importance of teamwork and tolerance.
This was also a time to start giving back to the sport and Tom started doing an increasing volume of coaching. RYA Cymru Wales and CBYC supported him gain his sailing instructing qualifications. He was able to teach at both Cardiff Bay Yacht club and Cardiff Bay watersports centres where he would teach children, adults or disabled.
After completing his A-Levels, Tom went to Swansea University. Staying only a year, Tom decided that this was not the right path for him; he wanted something with more action and time outside. A passion for water was stronger than the passion for the classroom.
Having acquired his Senior instructor certificate he secured a position as water sports centre manager in Abu Dhabi where he worked for 9 months. This introduced him to managing people, understanding different cultures and teamwork.
These skills and experiences all set him up well for his current job which provides the excitement and sense of action which he has always enjoyed.
Asked what skills has sailing provided which are really important in his current role Tom stated "Fitness, strong state of mind, mental stability, teamwork and leadership were all acquired through sailing and are critical when you are diving in some dangerous situations"
Although no time for sailing right now Tom Says that "he will get back into it at some point and once the training is complete the Navy offers many opportunities to sail and he is sure to get involved with that."